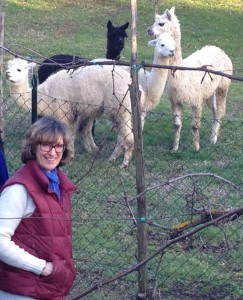 Benvenuti! My name is Fiona Tankard , I'm a writer and I have lived in Italy, first in Umbria and now Tuscany, since 1994 with my husband and a variety of pets. Over the years we have had cats, dogs, geese, a crow, fish, two pigeons and alpacas.
I started this blog to help homeless animals in Italy and to help non Italian pet owners owners and visitors too. I know that it can sometimes be hard being an animal lover in Italy. You can be thought of as 'un po' eccentrica' as my last neighbour dubbed me, and as for having animals in the house – well, say no more!
My husband Alan and I moved to Italy with our original pets, travelling in the back of our ancient Lada estate bought especially for the trip. The dogs Kelly and Emma, plus cats Harley, Widget and Birkana went in the back and we set off with trepidation on a journey that had many highs and some lows (like almost losing the cat in a mnotorway service station carpark!) We slept in two tents at Chamonix, one for Alan and the dogs and one for me and the cats.
Since we moved here we have seen many of our pets come and, sadly, go. The most recent loss was of our lovely little dog Maia, who died of canine lymphoma. Our current pet family comprises one male cat – Jimmy, three dogs – labrador ZsaZsa, Internet rescue English setter Gassie, Internet rescue dog Mana', rescue pigeon Lulu and five alpacas – Nicola, Emilia, Champagne , Brunello and Dolcetto.
I add to this site regularly, posting blogs, resources, appeals, links and my own articles and photos. Please feel free to comment and get in touch if you have any questions or suggestions and I'll be happy to help if I can. I am particularly keen to hear about any charities or appeals for animals in Italy that you could send me so I can post them on the site.You can email me on fctankard@gmail.com