Five o'clock in the morning and here I am sitting at the kitchen table staring at two printed pages from my computer. Each features an English setter, a breed I had scarcely even given a thought to before. Tears are rolling down my face and my little crossbreed Maia has pulled herself onto my knee and manoeuvred herself into a position where she can study my face intently, aware – with her incredible sensitivity – that there is something wrong. I pat her head. 'What am I going to do Maia?' I sniff.
ZsaZsa, the yellow lab snores on obliviously on the settee as I pick up the pages again. As if the act of handling them over and over again will somehow help me make a decision. They were both printed from this, my petsinitaly website, the first I translated from Italian into English, the second was sent to me by an Italian lady in London. I pick up the first page again, hugging Maia to me as I read. It told the story of a poor English setter who had been in a kennels for eight years. Oh God.
I pick up the second page, its quaint English just as the lady wrote it to me.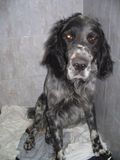 "Gaspare is a five year old setter probably abandoned by a hunter who, after deciding that he was no longer useful, just let him roam free, knowing what would happen when he went looking for food in a nearby town. And this Gaspare did. One afternoon he ventured into the town of Montoro Superiore, near Avellino and tail wagging, he approached a child eating a snack, hoping to maybe get a pat and a scrap of his food. Instead Gaspare was attacked by villagers, who kicked him and hit him with sticks. Fortunately, a volunteer from the local pet rescue team happened to witness this attack, and intervened to help poor Gaspare, nearly getting beaten themselves in the process. They took Gaspare to the vet's where he was found to have two broken ribs, two broken teeth, a severe nasal haemorrhage and severe bruising."
I get another piece of kitchen paper and blow my nose. Then I get out my tarot cards. Then I get out the runes. Then I take the dogs for a very early morning walk and try to think.
Suddenly events have taken things out of my hands. I get a frantic call from my sister who is in the UK on a visit from her home in California. My 91-year-old mother has fallen and broken her hip. I dash over and there follow a series of hospital and nursing home visits.Adopting a dog is the last thing on my mind.
After my Mum is back home and I am back in Italy feeling a bit more relaxed, I start to wonder about the Internet dogs. I look again at the photo of Gaspare's sad, long face and his droopy dark brown eyes. I email the lady looking after him to discover that he has been
adopted by someone in Milan. Goodness – a team of volunteers had driven
him in relays 800 kilometrres from Avellino. Still at least there is a happy ending! But on Alan's birthday ,the 23rd June, I get an email. Gaspare's adoption has fallen through, did I want him? I send off an email to ask what has happened and then Alan and I go out for his birthday dinner and I broach the subject of another dog.
Over the next few days I am in an agony of indecision. I sit and talk to ZsaZsa and Maia. 'Do you want a brother?' I say to them. They stare passively back. 'You're not really helping are you?' I say and I go off to feed the crow. The crow – oh God! English Setters are bird dogs, aren't they? They may eat
crows. I would hate anything to happen to Merlina the handicapped crow I have looked after for two years. I send off another email to Daria the girl fostering Gaspare. Is he OK with crows? She's – understandably – not sure, but he is fine with their Persian cat.
I wake up with a brilliant idea. There is clearly only one way to solve my Gaspare dilemma. I must go and see him. It is an eight-hour round trip to Milan from here, but I know I have to go. How can I possibly make a decision like this based on a photo? Alan thinks I am completely barmy as I fix up a visit for Friday 3 July. I'll take the Eurostar and Daria and boyfriend Alessandro will meet me at the station. I buy a dolly for Gaspare and cut a piece of ZsaZsa and Maia's huge towel to take with me to accustom him to their smell. But before that we have to be inspected to make sure we are suitable adoptive parents! I clean the house from top to bottom and get the dogs' vaccination boosters at the vets. I am looking forward totelling out usual vet Massimiliano about our possible rescue dog, but he is away and so we get his pretty locum instead. On July 2 Barbara the inspection lady and her friend Simonetta arrive to do the pre-adoption check. The ladies are very chatty and laugh as they look at the Merlina the crow ('We heard there may be an issue with the crow,' says Barbara. 'Could we see it? I've never seen a pet crow before.') The garden is deemed 'paradiso' and they leave after asking if they could send their dogs here too. We guess we have passed muster. And now it's Milan tomorrow.
Diary Entry Fri 3 July
Got up at 5, station at 5.40 got train to Arezzo and then to Florence where got Eurostar to Milan to see Gaspare. Daria and her boyfriend met me at station at 11. Lovely couple. Dog is fantastic, calm, quiet,
lollopy. 10 mins in park then went to their flat overlooks San Sirio hill. Daria has rescue dog Stellina and cat Matilda (Persian) Took some photos. V.V. hot! She graduated yesterday so they had a party and had

some food left which they gave me for lunch then Alessando took me back to the station. Got 1.30 train, change Bologna. Delayed 18mins so just missed train home. Arrived back at 7pm! Knackered.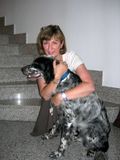 Of course, we have to have him. Actually, I knew that before I went but it took the process of the journey and the physical effort involved to help me decide.
I have to go back to England on 9 July so we arrange for Gaspare to come on the 7 July, the day after I get back. Daria and Alessandro are(unbelievably) going to drive him down from Milan and return the same day. I come to the conclusion that these animal people in Italy are really, really special.
On Friday 17th July (Friday 17th incidentally, being the Italian equivalent of our Friday the 13th) I wake early feeling very excited and nervous about getting Gas. I have started calling him Gas instead of Gaspare, as that's what Alessandro and Daria have shortened his name to. They had told us they would arrive at 11 but in fact it is nearer 12 when their car finally pulls in. I have decided to let Gas meet ZsaZsa and Maia in the field behind the house, so despite the fact it is absolutely boiling hot, I drag poor Alessandro and Daria into the field and the introductions commence. It all goes well, better than I had hoped. Gas a long-legged silky black and white vision, is oblivious to everything and captivated by the smells in the field after the small piece of parkland he has been used to in Milan. ZsaZsa and Maia bark a bit then set about sniffing the newcomer warily.
We take all three on a walk around the garden and risk letting them off the leads. Gas spies the small fishpond which I spent hours digging and lining and leaps in, landing splat in the middle.Alessandro and Daria are mortified, but I am laughing my head off as Gas lies flat out in the pond wagging his tail. This is, as I am to discover, a taste of things to come.
Inside he wanders around then flops down in front of the water bowl and drinks the whole lot lying down with the bowl between his paws. 'He does everything with gusto, doesn't he?'Alan laughs and I explain he did the same in Milan and that just seems to be how he drinks water! He gets up wanders over to the curtain and lifts his leg then turns and looks at us all as we have all shouted 'No' in a chorus.He gives a kind of canine shrug, smiles (he definitely smiles) and lies down next to ZsaZsa.
At last, it seems, Gas is home.