Every day it seems there are more poor dogs looking for homes. Every one of them deserves a chance and I hope that by putting their stories up here someone might see a photo and fall in love. I've done it myself, twice, and have never regretted it.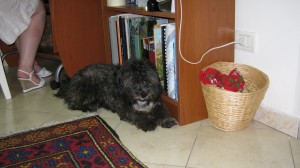 The adorable Rudy is in Calabria, and she was lucky enough to be rescued by a lovely lady called Judy. It is virtually impossible to rehome dogs down there so the Internet is Rudy's only chance. Judy writes: "Three months ago I rescued an abandoned dog who was being mistreated here, intending to get her back to health, spay her, and when she was healthy and cute again then find a home for her. Her name is Rudy. She is now about two years old, weighs 15 pounds. She is black, mop-haired, smart, loving, good with children. She is healthy, spayed, a happy little dog. I have been unable to find a home for her. The sindaco refuses to send her to the canile as he says I own her. The canile will not accept her, even if I pay the monthly fee, without the sindaco's approval. I cannot just walk away from her in May.
" She makes friends easily with other dogs as well as people; is best friends immediately unless the other dog or person indicates they don't want to know her; then she just sits down, or trots away. I have English students who come to the home, and if they allow it she will lie under the table with her head on their sandals or shoes during the lesson. She loves to play — in the summer some of the summer visiting boys would come to the door to see if Rudy could play. When I go to sleep I am sleeping on my left side with my head on the pillow, and sometimes when I wake up Rudy is also sleeping on her left side with her head on the pillow. She hasn't had much experience with cats, but when we are walking and she sees one she very much wants to chase it, so I don't think cats would be a good fit. "
Judy has to go back to the USA in May and is desperate to find a home for this gorgeous dog. She is currently in Camini, in Calabria, the second hill town up from the Ionian Sea. The nearest town is Riace Superiore, also a hill town; the nearest seaside town is Caulonia, then Roccella, Siderno, etc. They are about 1.5 hours from Reggio Calabria. Judy's son-in-law would be willing to drive Rudy and Judy to the new owner if you are outside the area.
CAN YOU HELP?
Phone Judy (English only) : 0964 733 060. E-mail is: judycree@gmail.com
For Italian speakers, Judy's daughter is Sarah Cree, her husband is Franco Tassone, and their number is: 0964 733 056.