Ask anyone about Italian dog breeds and you'll probably get the same response. They may be able to name one, maybe two. In fact, there are sixteen Italian dog breeds.

Probably one of the most famous Italian dog breeds is the Neapolitan mastiff (like Hagred's dog Fang, made famous in the Harry Potter films). This wrinkly, drooly dog is actually a gentle giant as well as being incredibly loyal.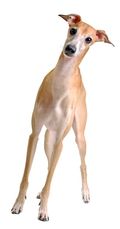 The gentle and slender Italian greyhound known as the piccolo levriero italiano weighs just under 11 pounds and is therefore classified as a toy breed, but they are true greyhounds and very fast. Italian greyhounds make ideal companion dogs although they can be a bit fragile and can break their legs relatively easily, so probably not best in a boistrous household.

If you dream of truffles, that elusive and unforgettable earthy fungus, then the dog for you is the gorgeously woolly Lagotto Romagnolo (Romagna Water Dog). Highly intelligent, great with kids and very trainable, this compact but robust little dog will steal your heart.
The Pastore Maremmano Abruzzese or Maremma Sheepdog is a large white hairy beauty with the most adorable looking puppies in the world. Originally a working dog, it is tremendously loyal and affectionate but also quite independent and not really a first time owner's dog, you need some experience to handle a Maremma in the house.

The very rare Volpino Italiano known also as the Italian Spitz or Florentine Spitzis a fluffy little dog with a big personality. If you want intelligence, affection and loyalty in a small package look no further. You'd be in good company as Michelangelo had one.
Other Italian dog breeds:
Bergamasco Sheepdog (Pastore Bergamasco)
Bolognese (Bichon Bolognese)
Bracco Italiano (Italian Pointer)
Cane Corso (Italian Mastiff)
Cirneco d'Etna(Sicilian Hound)
Segugio Italiano (Italian Hound)
Spinone Italiano (Italian Wire haired Pointer)